Ref:
Date:
Location:
Artist:
Ref:
Date:
Location:
Artist:
About Us
History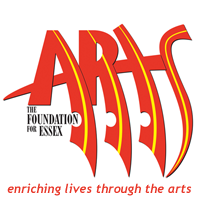 The beginnings of TFEA go back to the Essex Gallery Commission which was set up and Chaired in late 1999 by a local arts activist with the objective of lobbying to get an iconic building for the artists of Essex to show their work and also to be involved in community outreach through workshops, demonstrations etc. Three of the founding members at that time were our present Chair, Trevor Harwood, Mike Harrington and Elizabeth Grant. Over time the objective proved very difficult although we engaged with Thames Gateway, Southend Council and Chelmsford Council by providing advice, plans and research. Gradually our objectives changed and our numbers diminished. Nonetheless two great projects were achieved: The Basildon Heritage Project and Our Basildon. Much of our focus was in Basildon as there was a great need in the area. The Essex Gallery Commission changed its name and became The Foundation for Essex Arts Ltd, registering with the Charities Commission in April 2011.
in 2012 Elizabeth was asked by the Basildon Arts Trust (BAT) to come on board to assist them. They had been in a difficult situation for some time. It was a complicated situation because the Trust set up in 1978 to care for and build on a collection of art no longer met current Charity Commission regulations. Sadly, over time and for various reasons some related to the arrangement BAT had with Basildon Council, these paintings became dirty and badly damaged due in part to being stored inappropriately. Tens of thousands of pounds' worth of damage was done and BAT could not afford their own storage facilities. Our original Chair and another trustee retired shortly after we registered with the Charities Commission. The new Chair and Board of Trustees began to consider a fresh direction. Elizabeth proposed a merger with BAT so we could help them and engage in a longer term development plan moving away from being project driven. All parties agreed and in 2013 we became one organisation caring for the art collection and implementing the plan which we felt would meet our new mission;
enriching lives through the arts
.
We completed a sale through Christie's of London of the seven paintings which formed a particular gift from the Stuyvesant Foundation to the Basildon Arts Trust (BAT) back in the early 1980s. These were mostly large 1950s/60s abstracts. Following the merger the decision to restore and sell these paintings formed part of our strategy to help young people from Basildon and Essex to study the arts. We have now set up a bursary fund which is administered by University of the Arts London. We are encouraging our students to be role models for children who may be low in aspiration and often from deprived backgrounds. We want Essex children to know there are creative careers for them. We are also developing a programme of Creative Industries Ambassadors - details in a separate section. Key to this ongoing aim are the Creative Industries Careers Fairs which will be held annually. No other BAT Collection paintings will be sold and the intention is to grow the Collection for the future and find opportunities to display it as originally intended.
We anticipate being able to give bursaries for up to six students annually by academic year two/three and also be able to set up a hardship fund. The students can study any arts subject at any of the UAL establishments. This is unique among benefactors to UAL. The TFEA Bursary was launched at a Private View at the Beecroft Gallery, Southend, Essex on Friday 15th January 2016 at the commencement of TFEA's BAT Collection Exhibition which ran from16th January to 12th March 2016. The Trustees have great hopes for raising funds for the future to increase the bursary amount and to increase the help we give students through our Creative Industries Careers Fairs (CIC) for Essex Schools.
Trustees:
Trevor Harwood
- Chair (Artist & Teacher, retired businessman),
Mike Harrington
(Artist & Youth Worker - retired),
Peter Patterson
(Gallerist, businessman & former BAT Trustee),
Elizabeth Grant
- Development & Acting Secretary (Artist, Historian & Political Scientist), and
Colin Grant
- Treasurer (Lloyd's of London - retired).
Honorary Members:
Geoff Williams MBE, Karen J. Deane.
Retired Chair:
Vin Harrop - 2011
Retired Trustees:
G Williams, KJ Deane, P Tucker & VJ Webb
Our Patrons:
Sir Andrew Motion (currently residing in the U.S.) Richard Sorrell, RA, (currently lives and works in Cornwall but has connections with Essex) and the internationally known artist, Mark Wallinger who is originally from Essex. We are actively, seeking one more patron who may come from the world of the dramatic arts or another creative arts arena.